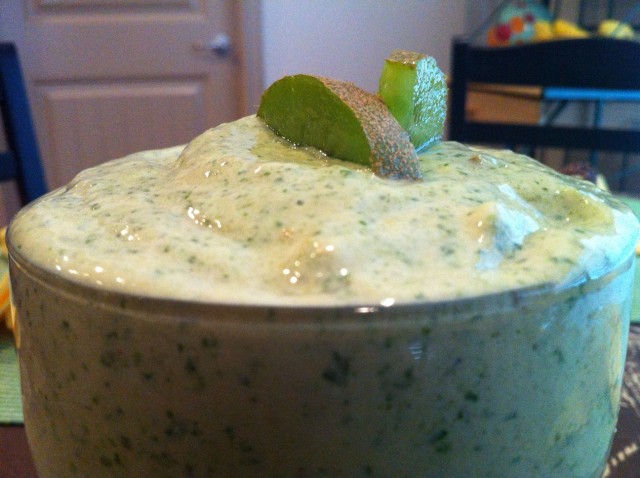 Not too long ago, the hubby found an incredible deal on guavas.  When I say incredible, we are talking jaw-dropping awesomeness.  Clearly, we couldn't pass it up…but we are also only two people and can only eat so much.
Needless to say, our large freezer in the garage has had a little section carved out just for guava.
I've never, ever experimented with guava before, so I was super excited!  I know there are tons of other recipes I want to try out with our stash (frozen yogurt, sorbets, I've even heard tell of guava FUDGE…I knoooooow!).  That being said, ever since school started back, I've barley had a moment to breathe.
Luckily, smoothies are always there for me when time is not on my side.
Not only is this smoothie a snap to throw together, but it's also loaded with vitamins and nutrients!
The guava fruit just happens to be one of the richest sources of Vitamin C. When compared to citrus fruits such as the orange, the guava has over five times the Vitamin C concentrations of the orange in its rind alone.  (And its rind is edible folks, so make sure you take advantage of all that immune-boosting power!)  Moreover, the guava fruit is an unusually rich in calcium. The fruit is also rich in Vitamin A and B, as well as iron, and folate.  Finally, the guava has incredibly high concentrations of fiber.  In fact, just one medium-sized guava yields 36% of the daily recommended fiber intake!
Add to that all the additional vitamin C in the kiwi (which is another whole nutritional powerhouse in and of itself), plus the goodness of greens, the healthy fats in the hemp seeds, and the calcium, protein and nutrients from the whole milk…and, well, you got yourself one awesome smoothie! 🙂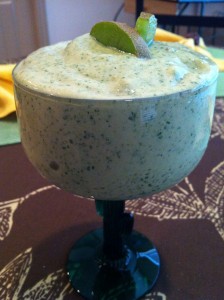 Guava Kiwi Green Smoothie
(Serves 1 to 2)
Ingredients:
1 cup milk (preferably raw)
1 scoop Raw Protein (optional)
1/2 frozen banana
3 frozen guavas
1 to 2 kiwi
1 cup frozen greens (spinach, turnip, kale…your choice!)
1 T raw hemp seeds
1 tsp. pure vanilla extract
Handful of ice
Combine all of the ingredients in your blender.  Blend until smooth and creamy.
Enjoy the nommy refreshment AND nourishment!  Your body will love you for it…and so will your taste buds. 🙂
A word of caution to those who don't like seeds:  guava seeds are quite hard.  I didn't even really notice them by the time everything was blended together, but the hubby was not a fan of the seeds.  SO, if you are a bit more sensitive to seeds, you may want to remove them before freezing the guavas.