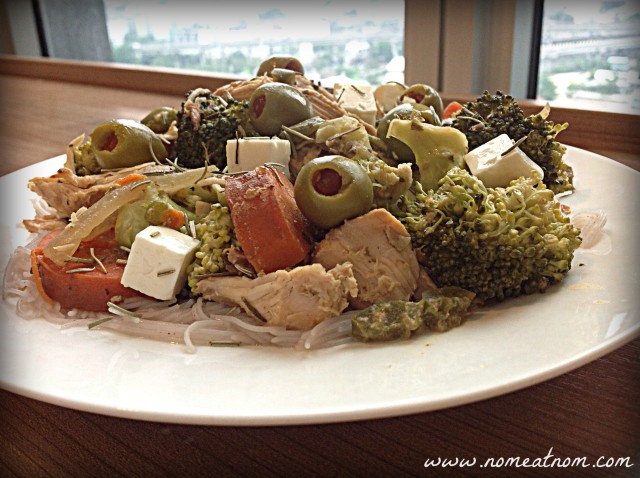 Prepare yourself for one incredibly delicious flavor bomb!!!
Seriously, though.
This dish completely exceeded my expectations—like, knocked them out of the water and over the moon kind of exceeded.
Plus, it is so, so easy thanks to the wonder and joy that is the Crockpot (aka the slow cooker).
If you hadn't noticed, I have pretty much fallen in love all over again with my Crockpot.  I don't know how I managed to fall out of the pattern of using it regularly—but now that it is back in action, I simply can't get enough!
In fact, the other day I had to sauté some chicken and vegetables for dinner, and I actually had a difficult time remembering just how long it had been since I last used the wok.  I even found myself feeling slightly annoyed and sad that I had to stand in front of a hot stove.  I stood there thinking:  Wait.  You mean I can't just walk up to a pot and scoop out a hot meal?!?  Whaaaaaaat?
Yep, the Crockpot definitely has me spoiled.
Deliciously spoiled.
Now, as marvelous as the Crockpot is, I have to admit that I was a little worried that the lemon flavor would get lost in the mix of things after hours of slow cooking.  After all, when I add lemon or lime to dishes on the stove top, I usually have to garnish the dish with extra juice at the end.  Thus, I was prepared and had an extra lemon at the ready, just in case I needed to squeeze fresh juice on top of everything before serving.
That extra lemon lived to see another day, though, because it was most definitely not needed.  In fact, the opposite of what I expected actually happened:  the slow cooking process infused each and every bite with lemon-dijon goodness.  It was absolutely fantastic!
Plus, since it's just the hubby and myself, we were able to enjoy leftovers on two busy weekday nights.  Could I love this recipe any more?  I don't think so!
Question of the Day:  Do you call it a Crockpot or a slow cooker?  I grew up always hearing it called a Crockpot, and the name just stuck with me.  However, I'm hearing more and more people calling it a slow cooker these days.  What say you?  Let me know in the comments!

Crockpot Lemon-Dijon Chicken and Vegetables
Serves 6
Ingredients:
Instructions:
Lightly coat the inside of the Crockpot with extra virgin olive oil.
Pour half of the lemon juice into the Crockpot.
Add the carrots, onions, bell pepper, and garlic.
Dollop the vegetables with half of the Dijon mustard.
Place the chicken* on top, and then cover it with the remaining lemon juice, Dijon mustard, and all of the seasonings.
Cover the Crockpot and cook on low for eight hours.  (If you are pressed for time, cooking on high for four hours should also do the trick.)
About thirty to forty minutes before the cooking time is through, gently stir the broccoli into the Crockpot.
Before serving, use two forks to shred the chicken.
You can serve this delicious mixture of culinary goodness atop rice, quinoa, vermicelli (which is what we happened to have on hand), pasta, potatoes—the choice is yours!
Top each serving with some of the green olives and Feta cheese.
Enjoy!
*A note regarding the chicken:  I like to marinate mine in yogurt whey for several hours.  Do you strain your own Greek yogurt?  If so, the leftover whey makes a fantastic marinade.  We have used it with both chicken and beef, and the whey makes the meat incredibly tender!  Give it a go, and let me know what you think!