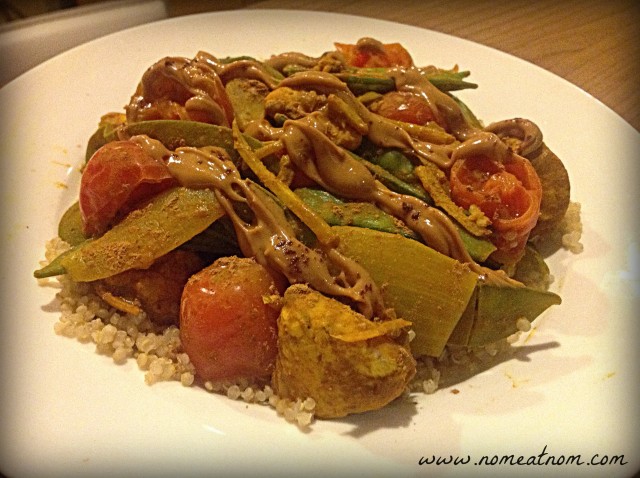 It doesn't take too much perusing on this blog to realize pretty quickly that I absolutely adore peanut butter.
Seriously.
It is my most favorite food.
And that is saying a lot.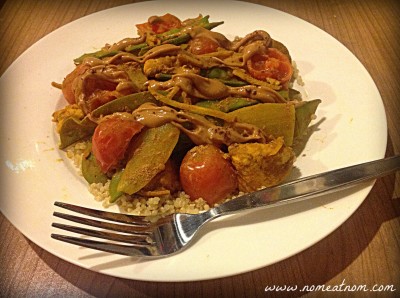 One of the many, many things that I love about peanut butter is its versatility.  After all, it tastes amazing with sweet things…and savory things…and spicy things.
The latter is what we are exploring in today's recipe.
Prepare yourself for a whole lot of yum.

Spicy Ginger-Peanut Stir Fry with Quinoa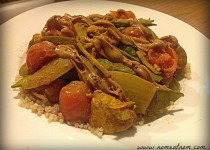 Serves 4
Ingredients:
Instructions:
Coat a large skillet with olive oil.  (I use a spritzer like this one.)
Add the garlic and sautée until golden.
Stir in the chicken* and sautée until no longer pink.  Season with salt and crushed red pepper.
Add the vegetables and remaining seasonings to the pan and stir fry until the veggies are tender.
Serve the stir fry over warm quinoa.
Drizzle each serving with peanut butter.  Sprinkle with a bit of extra red pepper, if—like yours truly—you are a fan of all things spicy.
Enjoy the flavor explosion!
*A note regarding the chicken:  I like to marinate mine in yogurt whey for several hours.  Do you strain your own Greek yogurt?  If so, the leftover whey makes a fantastic marinade.  We have used it with both chicken and beef, and the whey makes the meat incredibly tender!  Give it a go, and let me know what you think!