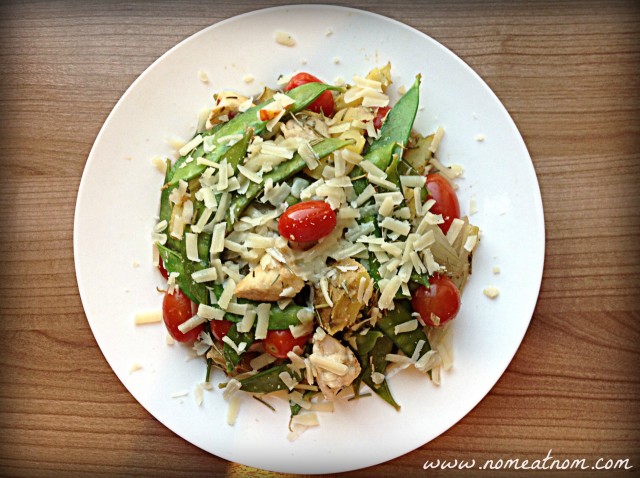 Recently, I was lamenting over my oven-less woes.  Well, not much has changed on that front; it's still hard to be without an oven, that's for sure.
However, if I have to remain oven-less for awhile, at least I can take comfort in the beauty of stir fries and skillet meals.  They are just so versatile!  You can pretty much throw whatever veggies you have on hand in the pan with some olive oil, along with your protein of choice (meat, eggs, beans — you name it!), and top it all off with yummy seasonings and possibly even some cheese…and voilà!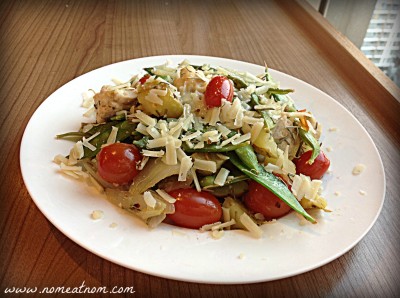 Dinner is served.

Lemon Rosemary Chicken and Potatoes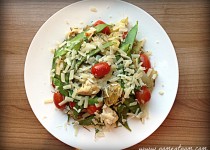 Serves 4
Ingredients:
Instructions:
Coat a large skillet with olive oil.  (I use a spritzer like this one.)

Add the garlic and sautée until golden.
Stir in the chicken* and sautée until no longer pink.  Season with salt and crushed red pepper.
While the chicken is browning, place the potatoes in a single layer on a plate and microwave them for a few minutes in order to soften them a tad.
Add the potatoes, veggies, and rosemary to the pan.  Sautée until the veggies are tender.
Top each serving with lemon juice and Parmesan cheese.  Sprinkle with an extra pinch of rosemary.
Enjoy!
*A note regarding the chicken:  I like to marinate mine in yogurt whey for several hours.  Do you strain your own Greek yogurt?  If so, the leftover whey makes a fantastic marinade.  We have used it with both chicken and beef, and the whey makes the meat incredibly tender!  Give it a go, and let me know what you think!