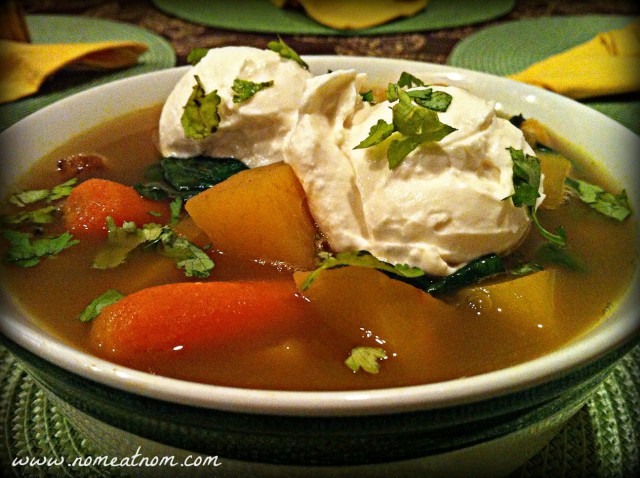 Mmmmmmmmm, soup!!
There's a reason why Campbells has always called it mmm, mmm, good!
I'm just saying.
At any rate, it had been way too long since I'd made a nice, warm, satisfying soup!
So, when the hubby came home with some rutabagas he found on sale, I just knew they were destined to find themselves in bowl of warm, comforting goodness!
Believe it or not, this was the first time I had ever cooked with a rutabaga!  They are often compared to potatoes, and, for the most part, I can see why.  However,  did you know they are actually a cross between turnips and cabbage??  (I can see the turnip part…but cabbage??  Interesting.)  At any rate, these bad boys the hubs came home with were also HUGE — way bigger than I've ever seen any potato!  The "skin" on the outside is also super tough.  Let's just say you don't peel a rutabaga; you literally cut the layer of skin off of it — with a big, big knife.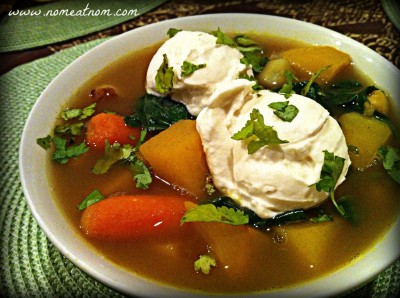 Peeling this large vegetable is most definitely a worthy adventure though, as they are super tasty and super nutritious!  In fact, rutabagas are packed with cancer-fighting phytochemicals, antioxidants, vitamin C, and fiber!
Score!!

Moroccan Rutabaga Soup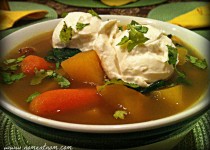 Ingredients:
Instructions:
Heat the coconut oil in a large pot over medium-high heat.  Add the garlic and sauté until golden.
Add the next 11 ingredients to the pot, and bring to a boil.
Reduce the heat to low, and cover the pot.  Allow the soup to simmer for about 45 minutes, or until the veggies are tender.
Stir in the garbanzo beans and spinach, and allow the spinach to wilt
Top each serving with a dollop of Greek yogurt and a sprinkle of cilantro, if desired.
Enjoy your bowl of comfort, bursting with flavor!