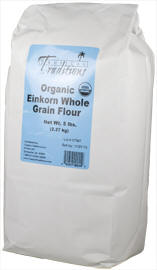 Hold onto your hats, NOMsters, because I have another awesome giveaway for you, courtesy of our friends at Tropical Traditions.  Plus, not only do I have the chance to offer another giveaway, but I also get to talk to you all about another product that I absolutely love.
Seriously.
And I just know that all of you fellow bakers out there are going to love it, too!
I guess I shouldn't be too surprised.  After all, every single thing I've tried thus far from Tropical Traditions has by and far exceeded my expectations!  (Especially their amazing dishwasher detergent — our dishes come out with such as beautiful sheen, they're borderline blinding!!)
So, as you probably figured out from the title, this wonderful new product receiving my adoration is Tropical Traditions Organic Whole Grain Einkorn Flour.  What exactly is Einkorn, you ask?  Here's the skinny on this nutritious whole grain straight from Tropical Traditions' site:
Einkorn is an ancient grain, and is known as the oldest variety of "wheat." Einkorn is also sometimes referred to as "farro" or "farro einkorn." Einkorn was first cultivated 5,000 to 10,000 years ago. It is classified as a "diploid" because it only has two sets of chromosomes. Modern wheat varieties are classified as "hexaploid," having six sets of chromosomes, due to a long history of hybridization. Einkorn is thought to have originated in the upper area of the fertile crescent of the Near East (Tigris-Euphrates regions), and is quite probably the main grain recorded in the earliest biblical history.  Einkorn became widely distributed throughout the Near East, Transcaucasia, the Mediterranean region, southwestern Europe, and the Balkans, and was one of the first cereals cultivated for food.
Now, I'm always on the look-out for adding new varieties of foods to my diet, so this was perfect!  Of course, the true test is how does it taste??
Fabulous, darlings, simply fabulous.
In fact, so far I've used it in both yeast bread and muffins, and both have turned out super moist and delectably delicious!  Trust me, you will love it!
Now, on to the most important part:  the giveaway!!
To enter the giveaway, all you have to do is subscribe to Tropical Traditions' awesome and informative newsletter.  (I definitely recommend it; in fact, I owe my discovery of coconut oil and all of its greatness to their educational website and newsletter!) You can also get bonus entries for liking their page on Facebook and/or tweeting about the contest!  Be sure to use the Rafflecopter widget below to ensure that your entries are counted!  (Note:  This contest is open to participants in both the US and Canada.  However, Tropical Traditions is not responsible for customs or duties that may be charged to those living in Canada.)
Don't forget to check out tons of other delicious and nutritious items from Tropical Traditions, including their top-quality virgin coconut oil!  They even provide tons of tips and ideas for how to use coconut oil! We are constantly discovering new ways to use it; the stuff is seriously phenomenal.
Disclaimer: Tropical Traditions provided me with a free sample of this product to review, and I was under no obligation to review it if I so chose. Nor was I under any obligation to write a positive review or sponsor a product giveaway in return for the free product. In addition, if you order by clicking on any of my links and have never ordered from Tropical Traditions in the past, you will receive a free book on Virgin Coconut Oil, and I will receive a discount coupon for referring you!